Who We Are
Alessandra Abidin
Alessandra Abidin - lives in Cremona, Italy. She is the co founder of Ernestos Sanctuary along with Mohammad Alaa Aljaleel (Alaa) . A speaker of Arabic, Alessandra speaks daily to our team in Syria. She is the president of the House of cats Ernesto NGO. Alessandra has 3 cats of her own.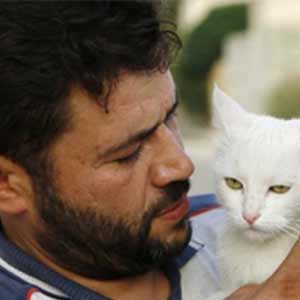 Alaa
The Cat man of Aleppo, is where our group started. His bravery in staying behind in war torn Aleppo to care for the stray cats and animals was the beginning of the first House of Ernesto sanctuary. His history is well documented and a simple search in Google will bring up many media links.
Dr Youssef Mohamd
Dr Mohammad Youssef is our amazing veterinary surgeon. He has been working at Ernestos now for a year and a half. The health and diet of our animals has improved because of his skill and compassion and this shows in the condition of all our animals. As well as his work at Ernestos he regularly visits surrounding farms treating cows, sheep, horses and goats, improving their lives and their health. Ernestos free veterinary clinic treats pets belonging to people in the area for free. Dr Youssef runs a neuter and spay programme for our resident animals and also some animals belonging to people living near by. His dream is that medicines, anaesthetic and vaccinations will one day be freely available and he can save more lives.
Abu Ali Wattar
Abu Ali Wattar is from the city of Aleppo where he studied animal welfare at an agricultural institute. Before the war he had a workshop and a shop to manufacture wood paint. During the war he studied for two years in emergency medicine and for 6 years as field assistant. Abu Ali is Dr Youssefs amazing veterinary assistant and does so many jobs at the centre. From cooking and preparing amazing meals for our cats, gardening, painting and designing and making so many costumes and props for the ongoing story of Maxi and Abla.
Ahmad
Ahmad works at the sanctuary and he is the person responsible for the cleanliness of the yards and buildings. He works really hard and his work is so important to the health of our animals.
Ahmad
This is Ahmad too. He still attends school, but he comes after school every day and helps prepare food for our animals. He loves our cats very much.
Lorraine Winson
Lorraine Winson - lives in the Lake District in Cumbria, U.K. She became involved with Il Gattaro d'Aleppo group late in 2015, when she came across an online photograph of Alaa feeding cats in the street in war torn Syria. The photograph stayed in her head and 2 days later she saw a BBC article about the same man. After a few internet searches she found the contact address of Alessandra Abidin and made contact. She feels honoured to be a part of this incredible project. An animal lover from childhood, she has kept dogs, birds, cats, chickens and horses, but limits herself these days to two cats in England, and is the sponsor of the beautiful Erik at Ernestos Sanctuary. Erik replaced Manchitas, who sadly went missing last year. "The sanctuary, the Ernestos team, the Facebook groups, have become such a big part of my life that I often wonder how I filled my time before. I have made many friends around the world. There have been tears and joy, great achievements, sad losses and many new lives saved. Ernestos is a unique and magical place and I'm honoured and proud to be a small part of it".
Jayne Reed
Jayne Reed joined Il Gattaro D' Aleppo in December 2015. Jayne lives in the United States and has been rescuing cats and dogs for over 50 years. For twenty years Jayne worked for a major corporation in Houston. Her job involved networking with government officials, procedure writing, and emergency training. Using her corporate position, she also worked with young at-risk children by bringing them into the corporate environment so they could learn there was a whole world of varied employment possibilities waiting for them if they stayed in school and avoided involvement with gangs and drugs. Of course, she continued to rescue cats and dogs throughout her corporate career. After she retired from the corporate world, Jayne moved to Utah where she built and ran a non-profit cat and dog hospice and rescue, Furry Friends Haven, for 13 years. Jayne has now moved back to Texas to be closer to her family bringing with her all the remaining cats and dogs from her Utah hospice. In November 2015, Jayne read a story about Ernesto Sanctuary caring for cats in war-torn Syria that touched her animal loving heart. She wanted to help if she could. In December 2015 she found and joined the Facebook group Il Gattaro D' Aleppo. She never dreamed how involved she would become with the animals and the people there as well as the many other members from all around the world. Through the Sanctuary, she has lived through times of great joy, horrific worry and tragedy, and cried many happy and sad tears. Jayne believes it was and is worth every second.